CA-4 VP
Intruder alarm control panel
The CA-4 control panel is designed for security of small facilities which do not require future expansion options of the system or operation of communication functionalities.
4 programmable zones with EOL loop termination
2 outputs
operation and programming with LED keypad
system codes

1 master user code
3 user codes (2 codes with limited rights)
1 service code

alarm log with 7 entries
basic diagnostics features
The device you are looking at is intended
for creation of an alarm system
in a small-size building.
When creating such a system, you want:
quick and easy configuration
intuitive operation
and simple control
These features, so important in a traditional,
wired alarm system, are characteristic of
the new solutions for the control panels
offered by SATEL
What else can the new control panels offer you?
MICRA
CA-6
CA-10
PERFECTA*


GRADE 2

1/1
2/1
4/1
2/3
number of partitions / arming modes
1
2
4
4
number of keypads in the system
5/13
6/8
8/16
8/32
number of zones / maximum number of zones
2/2
5/5
6/6
4/16
number of outputs / maximum number of outputs
8
8
12
15
number of users
alarm module
control panel
control panel
control panel
device type
GSM/GPRS communication
SMS control
built-in voice communicator
wireless communication
keypad programming
GPRS, SMS
audio PSTN
audio PSTN
GPRS, SMS,
audio GSM
reporting
Android
none
none
Android, iOS
mobile application
connection setup service
*SATEL's product portfolio includes four models of PERFECTA control panels: PERFECTA 16, PERFECTA 16-WRL, PERFECTA 32, PERFECTA 32-WRL. The table describes the features of PERFECTA 32-WRL.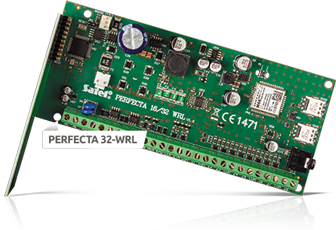 At the next installation,
try PERFECTA
check

product archief
Het uiterlijk van de producten kan afwijken van de weergegeven afbeeldingen. Product beschrijvingen zijn te vinden in de web service voor informatieve doeleinden.