Opties
UNIVERSAL MONITORING MODULE
GPRS-A LTE
Universal monitoring module equipped with telephone designed for use in the 2G, 3G and 4G cellular networks.

The device can work as part of intruder alarm systems as well as automation systems.
It provides reporting from the alarm control panel to the monitoring station and notifies the concerned parties about selected events.
Thanks to its configurable inputs that support analog signals, it can be used to supervise operation of any sensors measuring different physical quantities and report instances when the set thresholds are crossed.
For the module to interact with prepaid SIM cards, it has been provided with functions required to check the account balance and configure notifications of the balance falling below the minimum amount.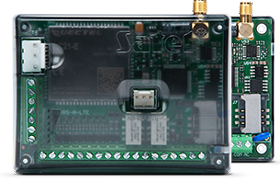 Full flexibility
The module can be successfully used in many existing and newly built systems. GPRS-A LTE can receive information about events from the connected control panel and forward them to the monitoring stations at security agencies or to the parties concerned via the mobile network. The module connects to the control panel through the control panel dialer (the module simulates the monitoring station) or through appropriately configured control panel outputs connected to the module inputs.
The module can be used to implement remote control functions, such as arming the system or opening the gate, also using the mobile application. The state of module outputs can also be changed automatically in response to specific events.
GPRS-A LTE can give a "new life" to some older alarm systems. It can also work as a stand-alone device, monitoring the state of various devices, automation systems, etc.
Event reporting
In the area of reporting, information is transmitted via:
mobile data transmission - using TCP or UDP protocols
SMS messages
Where events are sent using LTE/HSPA+/EDGE/GPRS technology (depending on the capabilities of the mobile network), the module supports two transmission formats:
SIA-IP (for communication with any monitoring station)
SATEL (for communication with SATEL made devices: STAM-2 monitoring station or SMET-256 reporting converter)
Notification messaging
The GPRS-A LTE module makes it possible to send notifications to up to 8 telephone numbers. This function can be implemented by using:
SMS messages
PUSH messages
CLIP service
The device can send notifications to the recipient through several independent paths. Since the event alert will be transmitted via all of the preprogrammed channels, the information will reach the recipient even when one of them turns out to be unavailable.

Remote control
GPRS-A LTE has 4 outputs, including 2 relay and 2 OC type. They can be remotely controlled and activated in several ways from any location:
via SMS messages (from 8 numbers)
from GX CONTROL mobile application
from a computer with GX Soft program installed
using CLIP service (from as many as 10 000 numbers).

Interaction with detection, measuring and other devices
The module inputs can be programmed as NO, NC or analog ones to work in conjunction with devices provided with NO or NC outputs, as well as with a number of analog sensors and digital-to-analog converters, which offers a great many possibilities for the module use.
The module will convert (rescale) the received analog signal to any unit of measure, including temperature or another physical quantity.
Collecting information from many modules in one place makes it possible to supervise, for example, a wind farm.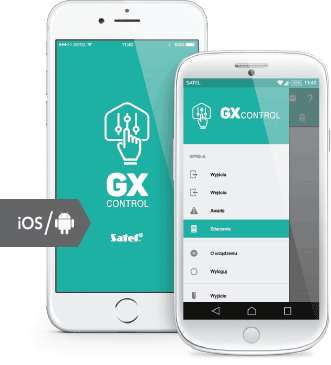 Mobile access
The application allows configuration:
verification of the state of inputs and outputs (of connected sensors and devices)
display of indications from analog inputs and digital sensors
viewing troubles with trouble memory clearing option
viewing event memory with filtering capability
remote control of module outputs (devices connected to them).
PUSH messages give the user permanent access to information.
Importantly, configuration of the application is very simple, and so is connection with the module. All you have to do is send an SMS from the application level to the device and receive the configuration data in response. Another, equally convenient way is to scan the QR code that is generated in the GX Soft program or in a preconfigured application.
Functional software
GX Soft is an advanced tool with a friendly and clear interface, intended for configuration as well as diagnostics of SATEL communication modules. The module and the program can interact locally (via RS-232 (TTL)) or remotely (via mobile network).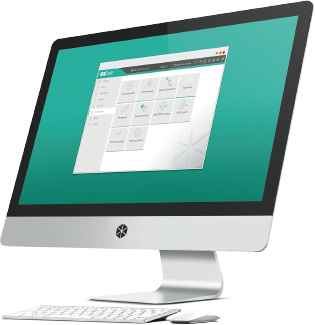 Easy and secure connection
Thanks to the SATEL connection set-up service, you can enjoy many functionalities of GX CONTROL and GX Soft. Configuration of communication between the application / program and the GPRS-A LTE module takes just a few moments, without any need to use external IP address or advanced network settings. When being sent, the data are encrypted using a sophisticated algorithm to ensure security of the transmission.

Remote software update
GPRS-A LTE is compatible with the UpServ program, which enables the device to be remotely updated. This allows the installer to quickly add new functionalities without having to physically visit the premises and dismount the module.

Universal monitoring module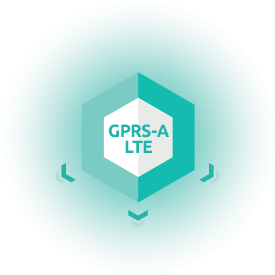 Interaction with all control panels
programmable inputs
outputs with remote control capability
converting audio reporting (PSTN) into: SMS, LTE*


Support for open communication protocols:
MQTT
JSON/HTTP
MODBUS RTU
Remote output control
SMS
CLIP
GX CONTROL mobile application
GX Soft configuration program
IoT

GX Soft configuration program
intuitive interface
full module configuration
viewing event log
fault diagnostics
* mobile data transmission via LTE/HSPA+/EDGE/GPRS - depending on the capabilities of the mobile network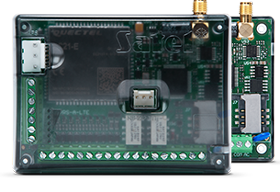 Eigenschappen
De GPRS-A LTE is een universele monitoringsmodule welke stand-alone kan werken of als onderdeel van inbraaksystemen of automatiseringssystemen. Het apparaat is uitgerust met een een telefoon die is ontworpen voor gebruik in de 2G-, 3G- en 4G-mobiele netwerken.
De module kan de rapportage verzorgen voor elk alarmsysteem en wordt dan aangesloten op de kiezer van het alarmsysteem of op geconfigureerde uitgangen.
Het apparaat heeft 8 ingangen welke digitaal (NO, NC) of analoog ingesteld kunnen worden. Degene die als analoog werken, kunnen worden gebruikt in automatiseringssystemen of om een ​​breed scala aan externe apparaten te monitoren, zoals temperatuur, druk- en vochtigheidssensoren. Bovendien heeft de GPRS-A LTE een 1-Wire bus waarop maximaal 8 DS-T1 of DS-T2 digitale temperatuursensoren aangesloten kunnen worden.
De module kan via GPRS meetgegevens verzenden via de open communicatieprotocollen MQTT, JSON, JSON/HTTP en MODBUS RTU. Het is mogelijk om een ​​server te maken die deze gegevens uit meerdere modules verzamelt. De verzamelde informatie kan worden gebruikt voor verwerking en visualisatie - bijv. om toezicht te houden op omgevingsparameters van meerdere koelhuizen, magazijnen of productiehallen. Dit past in het concept van het zogenaamde Internet of Things (IoT). In reactie op het overschrijden van de vooraf ingestelde drempelwaarden van signalen op de analoge ingangen of van de 1-draads sensoren, kan de GPRS-A LTE reageren door dergelijke gebeurtenissen aan de meldkamer te rapporteren of een melding naar de aangegeven gebruikers te verzenden. Hierop kan een automatische reactie worden geprogrammeerd die bestaat uit het wijzigen van de status van geselecteerde uitgangen, bijv. door het verwarmingssysteem in te schakelen vanwege een significante temperatuurdaling.
De module kan op verschillende manieren notificaties verzenden aan maximaal 8 gebruikers: via SMS, PUSH notificaties of via de CLIP service.
Het apparaat heeft 4 programmeerbare uitgangen die op afstand kunnen worden gestuurd via SMS, CLIP, GX CONTROL mobiele applicatie, het GX Soft configuratieprogramma, evenals via IoT. De GPRS-A LTE kan dus worden gebruikt om het alarmsysteem of andere apparaten die op de module aangesloten zijn, op afstand te bedienen.
Voor het programmeren en configureren moet u een computer gebruiken waarop het GX Soft-programma is geïnstalleerd. De computer kan lokaal verbinding maken met de module (RS-232 (TTL) -poort) of op afstand (gegevensoverdracht via het mobiele netwerk *).
Updaten van de apparaat firmware op afstand is mogelijk vanwege de GPRS-A compatibiliteit met de UpServ updateserver.
gebeurtenisrapportage: SMS / LTE*
conversie en hertransmissie van gebeurteniscodes die ontvangen worden van andere apparaten (telefoon PAC simulatie)
h

et verzenden van notificaties naar max. 8 telefoonnummers

notificatie berichten: audio / SMS / CLIP / PUSH

8 programmeerbare ingangen (NO / NC / analoog)

1-Wire digitale temperatuursensor bus (tot 8 sensoren)

de mogelijkheid om reactie op overschreden drempelwaarden te configureren op:

analoge ingangen,
1-Wire sensoren.

AC voeding controle ingang
4 uitgangen (2 relais, 2 OC-type) aan te sturen via SMS / CLIP (tot 10 000 nummers) / GX CONTROL / GX Soft / via IoT
IoT - ondersteuning voor MQTT, JSON, JSON/HTTP, MODBUS RTU open protocollen via GPRS
de mogelijkheid om het prepaid saldo te controleren en een notificatie te sturen als deze onder het vereiste minimum daalt
configuratie van de module:

lokaal - computer met GX Soft programma aangesloten op de RS-232 (TTL) poort van de module,
extern - computer met het GX Soft programma die verbinding maakt met de module via datatransmissie over het mobiele netwerk*

ondersteuning voor de GX CONTROL mobiele applicatie
de mogelijkheid om de firmware op afstand te updaten
de mogelijkheid om een speciale voeding van SATEL aan te sluiten: APS-412 / APS-612.
* gegevensoverdracht met behulp van de LTE / HSPA + / EDGE / GPRS technologie - afhankelijk van de mogelijkheden van het mobiele netwerk.
Documentatie
gprs-a_lte_nl.pdf
handleiding
geüpdate: 2022-05-18
2.18 MB
gprs-a_lte_sii_nl.pdf
Eenvoudige installatiehandleiding
geüpdate: 2022-01-27
443 KB
Ga naar
Software
Certificaten
EU-conformiteitsverklaring
geüpdate: 2020-01-03
82 KB
EN-50136 SP 5
geüpdate: 2020-04-27
182 KB
Technische gegevens
Afmetingen behuizing
83 x 65 x 23 mm
Bedrijfstemperatuur
-10...+55°C
Maximale luchtvochtigheid
93±3%
Uitgangen O1…O2 (OC type)
50 mA / 12 V DC
Uitgangen O3…O4 (relais, NO type)
1000 mA / 30 V DC
Toegestane AC-ingangsspanning
tot 25 V AC
Artikel informatie
Het uiterlijk van de producten kan afwijken van de weergegeven afbeeldingen. Product beschrijvingen zijn te vinden in de web service voor informatieve doeleinden.