Opties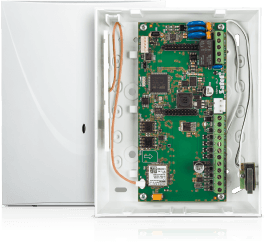 UNIVERSAL COMMUNICATION MODULE
GSM-X
GSM-X is a multi-purpose communication module that offers extensive functionality and support for multiple communication paths.
It can easily find numerous applications, some of which can be implemented in parallel. Full flexibility
The module can be used in many existing and newly built installations. GSM-X can receive event information from the connected alarm control panel or the controller and forward it to monitoring stations of security agencies or interested persons via cellular network, Ethernet* or analog PSTN** telephone line.
The module can be used to implement remote control functions, such as arming the system or opening the gate, also using the mobile application.
GSM-X can give a "new life" to some older alarm systems.
* When GSM-X is used with GSM-X-ETH
** When GSM-X is used with GSM-X-PSTN
Compatibility with
INTEGRA

and

INTEGRA Plus


alarm control panels

GSM-X can interact with the INTEGRA and INTEGRA Plus control panels via the RS-232 interface. It can report events from these control panels through all available paths: audio (via cellular network or PSTN*), SMS, Ethernet** and GPRS. For INTEGRA Plus, a function of automatic creation of SMS notifications is also available, the message content being based directly on the event list.

Additionally, GSM-X allows remote connection to the INTEGRA and INTEGRA Plus programs:
DLOADX – which is used for configuration, and
GUARDX – which is used for supervision and administration of alarm systems.
* When GSM-X is used with GSM-X-PSTN
** When GSM-X is used with GSM-X-ETH Communication
The device comes with a GSM telephone. It has two SIM card slots and allows you to use services provided by different operators. In case of failure to connect to one of the operator's network, the module will automatically switch to the other card to maintain continuous communication. A very useful feature is the prepaid SIM card handling functions that allow you to check your account balance and set notifications in case it has dropped below the required minimum.
An undisputable advantage of the device is that it allows simple expansion by adding one of the modules: GSM-X-ETH (Ethernet) or GSM-X-PSTN (telephone). It provides access to additional communication channels – Ethernet network or analog telephone line.
* When GSM-X is used with GSM-X-PSTN
** When GSM-X is used with GSM-X-ETH
Effective reporting
As regards reporting, information can be effectively transmitted using:
via cellular network (GPRS) – using the TCP or UDP protocols
voice – audio path via cellular network or PSTN*
text – SMS messages
Ethernet** – via TCP or UDP
Where events are made available using GPRS technology or via Ethernet**, the module supports two transmission formats:
SIA-IP (for communication with any monitoring station)
SATEL (for communication with SATEL made devices: STAM-2 monitoring station or SMET-256 reporting converter).
Support for several transmission paths in one device guarantees fast and reliable transfer of information. You can use each of them independently, defining specific tasks to be carried out.

Dual Path Reporting
GSM-X with the GSM-X-ETH module connected makes possible reporting through two independent paths: Ethernet and GPRS (with priority setting option).
The device is constantly monitoring the status of connections with the monitoring station and, when necessary, it replaces one channel with the other.
When it is the GSM-X-PSTN module that works with GSM-X, the dual path reporting is performed through cellular network and analog telephone line.

GSM-X offers the possibility of reporting to two autonomous monitoring stations. If necessary, each of them may be assigned two IP addresses (TCP/UDP reporting) or two telephone numbers (audio reporting).
Notification messaging
The GSM-X module makes it possible to send notifications to up to 8 telephone numbers. This function can be implemented by using:
voice – via built-in voice notification circuit
SMS messages
PUSH notifications
CLIP service.
The device can transmit notifications to the recipient through several independent paths. The event alert will be sent via all of the preprogrammed channels, therefore the information will reach the recipient even when one of them turns out to be unavailable. GSM gateway
The module can fully replace the analog line. In that case, it generates voltage states and line status signals (e.g. on-hook/off-hook) typical of the line and, after connection via GSM network is set up, it transmits signals coming from the analog line. When the line is unavailable, it diverts the voice calls to the GSM network. In the case of private branch exchanges (PBX), it functions as an additional external line, which allows you to optimize the cost of calls (from PSTN to GSM). The module can also filter calls, generate a ringing tone and caller ID information.
Remote control
GSM-X has 4 outputs that can be remotely controlled and activated in several ways.
In addition to controlling the alarm system, the GSM-X module will be a perfect choice to implement automation functions, including control of lighting, gates, wickets, roller shutters/blinds, solenoid valves, etc. If needed, it will turn on heating, air conditioning, smoke extraction, watering and many other systems.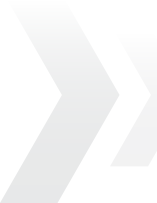 PUSH messages give the user permanent access to information.
Importantly, configuration of the application is very simple, and so is connection with the module. All you have to do is send an SMS from the application level to the device and receive the configuration data in response. Another, equally convenient way is to scan the QR code that is generated in the GX Soft program or in a preconfigured application.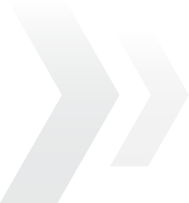 Functional software
GX Soft is an advanced tool provided with a friendly and clear interface, intended for configuration as well as diagnostics of SATEL communication modules.
The module and the program interact locally (via USB) or remotely (via Ethernet* or GPRS).
*When GSM-X is used with GSM-X-ETH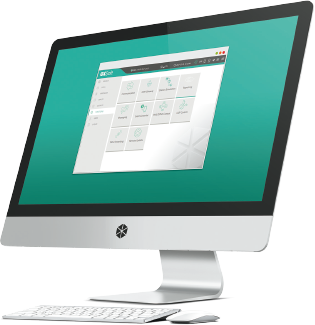 Easy and secure connection
Thanks to the SATEL connection set-up service, you can enjoy many functionalities of GX CONTROL and GX Soft. Configuration of communication between the application / program and the GSM-X module takes just a few moments, without any need to use external IP address or advanced network settings. When being sent, the data are encrypted using a sophisticated algorithm to ensure security of the transmission.

Remote software update
GSM-X is compatible with the UpServ program, which enables the device to be remotely updated. This allows the installer to quickly add new functionalities without having to physically visit the premises and dismount the module.

UNIVERSAL COMMUNICATION MODULE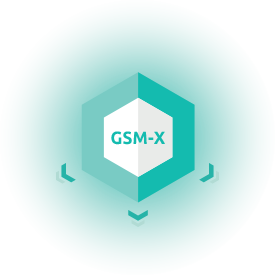 Communication
simulation of telephone line via GSM – GSM gateway
built-in audio communicator
dual SIM card support
easy expansion by adding GSM-X-ETH Ethernet module or GSM-X-PSTN telephone module
Reporting events
Dual Path Reporting compliant with EN 50136*/**
reporting sources:

control panel audio reporting
internal events
input violation
output status change

reporting paths:

GPRS (TCP/UDP)
audio (cellular network / PSTN telephone network**)
SMS
Ethernet* (TCP/UDP)
* When GSM-X is used with GSM-X-ETH
** When GSM-X is used with GSM-X-PSTN
Eigenschappen
De GSM-X biedt uitgebreide communicatiefunctionaliteit en ondersteuning voor meerdere communicatiekanalen. Dit apparaat kan worden gebruikt voor rapportage van alarmsystemen en kan worden aangesloten op de telefoonkiezer van een alarmsysteem of op de daarvoor geconfigureerde uitgangen.
Een belangrijke functie die de communicatie module biedt, is de uitbreidingsmogelijkheid van de GSM-X-ETH Ethernet module, zodat rapportage via twee onafhankelijke kanalen (Ethernet en GPRS) kan geschieden. Een andere mogelijkheid is om de GSM-X-PSTN module toe te voegen, waarbij de analoge PSTN telefoonlijn zal worden gebruikt als alternatief transmissiekanaal.Dankzij de constante bewaking van de verbinding status met de meldkamer en de substitueerbaarheid van transmissiekanalen, wordt voldaan aan de strenge eisen van de EN 50136 voor DP 1,2,3 en 4, de zogenaamde Dual Path Rapportage. Bij gebruik van de GSM-X-ETH wordt aanbevolen de GSM-X en GSM-X-ETH in een OPU-4 behuizing te plaatsen.
De GSM-X biedt op verschillende manieren de optie om (max. 8) gebruikers op de hoogte te houden: via spraakberichten, SMS berichten, PUSH berichten of via de CLIP service.
INTEGRA en INTEGRA Plus alarmsystemen kunnen met de module gekoppeld worden via RS-232. De GSM-X zal dan de rapportage en notificatie uitvoeren (bij de INTEGRA Plus wordt de inhoud gedownload uit het logboek) en kan een externe verbinding tot stand kan brengen met de DLOADX en GUARDX programma's.
Het apparaat kan de analoge telefoonlijn volledig vervangen en werkt als een back-up communicatiekanaal. Als de analoge lijn niet beschikbaar is, zal de module spraakoproepen doorschakelen naar het mobiele netwerk. In het geval van PBX-systemen kan deze worden gebruikt als een extra buitenlijn.
Het apparaat heeft 4 programmeerbare uitgangen die op afstand kunnen worden gestuurd via SMS, CLIP, DTMF, GX CONTROL mobiele applicatie, de GX Soft configuratie software of via IoT. Hierdoor kan de GSM-X worden gebruikt om bijvoorbeeld het alarmsysteem of andere aangesloten apparaten op afstand te bedienen.
Een computer met het GX Soft programma erop geïnstalleerd wordt gebruikt voor het programmeren en configureren van de module. De computer kan lokaal met de module verbinding maken nadat deze aangesloten is op de mini-USB-poort van de module, of op afstand door verbinding te maken met het apparaat via GPRS of Ethernet*.
Extern updaten van de module firmware is mogelijk dankzij de GSM-X mogelijkheid om te communiceren met het UpServ programma.
De ingebouwde GSM telefoon heeft twee simkaart houders. Indien er een storing optreed met het netwerkbereik van de eerste GSM provider, dan zal de module automatisch overschakelen naar de andere om een ononderbroken communicatie te behouden.
Dual Path Rapportage ondersteuning conform de EN 50136*/**
conversie van telefoon rapportage naar audio (mobiel netwerk / PSTN**) / SMS / Ethernet* / GPRS formaten
notificaties voor max. 8 telefoonnummers
notificatie: audio/SMS/PUSH/CLIP
conversie van PAGER berichten naar SMS
telefoonlijn simulatie via GSM - GSM gateway
overschakeling naar GSM indien de analoge telefoonlijn wegvalt
geschikt voor INTEGRA en INTEGRA Plus alarmsystemen:
4 programmeerbare ingangen (NO, NC)
4 uitgangen (OC) aan te sturen via SMS / CLIP / DTMF / GX CONTROL / GX Soft / via IoT
IoT - ondersteuning van JSON open protocol
dual simkaart ondersteuning
de mogelijkheid om het prepaid saldo te controleren en een melding te sturen als deze onder het vereiste minimum daalt
configuratie via de GX Soft software:

lokaal via USB
extern via Ethernet* of GPRS

interactie met de GX CONTROL mobiele applicatie
de mogelijkheid om de firmware extern te updaten
uit te breiden met de GSM-X-ETH Ethernet module of de GSM-X-PSTN telefoon module
* indien gebruikt met de GSM-X-ETH
** indien gebruikt met de GSM-X-PSTN
Documentatie
gsm-x_nl.pdf
handleiding
geüpdate: 2022-09-16
2.92 MB
gsm-x_sii_nl.pdf
Eenvoudige installatiehandleiding
geüpdate: 2022-04-22
643 KB
Ga naar
gsm-x_p_nl.pdf
programmering
geüpdate: 2018-07-03
264 KB
Ga naar
Software
Certificaten
Technische gegevens
Afmetingen behuizing
126 x 158 x 46 mm
Afmetingen print
141 x 70 mm
Bedrijfstemperatuur
-10...+55°C
Maximale luchtvochtigheid
93±3%
Milieuklasse conform de EN50130-5
II
Aantal voedingsuitgangen
1
OC type uitgangen
50 mA / 12 V DC
AUX uitgang
300 mA / 12 V DC
Artikel informatie
Het uiterlijk van de producten kan afwijken van de weergegeven afbeeldingen. Product beschrijvingen zijn te vinden in de web service voor informatieve doeleinden.