Access control system
ACCO NET
ACCO NET is a scalable access control system with a dispersed structure.
The main components of this solution include: server software ACCO Server and ACCO-NT control panels. The executive devices are the door controllers from ACCO-KP series, which are connected to the readers used for users identification.
CENTRAL SYSTEM MANAGEMENT
DISPERSED STRUCTURE
FLEXIBILITY
INTEGRATION WITH THE ALARM SYSTEM
UNLIMITED NUMBER OF FACILITIES
SAFETY
The comprehensive functionality, intuitive management methods as well as flexible construction and development of the system structure allow ACCO NET to fulfil requirements of large and medium enterprises with many divisions such as: commercial networks, banks, customer service points and other institutions.
The simplicity and convenience of the system are ensured by ACCO Web internet application, available via the Internet browser. This tool allows for managing the system from any given location in the world – both from stationary computers and mobile devices.


Flexible adjustment
unlimited number of facilities in various system structure configurations
many smaller facilities gathered into one, centrally managed, system
system managed from many locations at the same time, unlimited in terms of size
supports 65,000 users

Simple and intuitive maintenance
access to the system from an Internet browser via ACCO Web application
maintenance of ACCO Web from mobile devices
fast and convenient reading of cards, key tags using CZ-USB reader connected directly to the computer port

Dispersed structure
control and system adjustable from any place in the world:

the system can be managed by many administrators
supervision over the system by the guards
maintenance of the system by users

Full operational safety
multilevel user data and event history recording system
automatic download of "delayed" data after the connection has been restored

Stable and secure communication
data transfer with TCP/IP protocol
advanced encrypting of the data sent

Varied user identification and authorization methods
card / key tag / chip
access code
keyfob
possibility to program double authorization (card/key tag and access code)
Integration with the alarm system
simplified security and access control supervision in protected buildings
INTEGRA partitions and ACCO-NT zones integration:

convenient administration of ACCO NET user privileges
possibility to control INTEGRA partitions by up to 8,000 ACCO-NT users
possibility to arm and disarm integrated partitions and zones from terminals, ACCO Soft and ACCO Web softwares
visualization of the status of integrated partitions, zones and outputs of the alarm control panels

common event history
possibility of programming automatic blocking / unblocking of selected zones of the ACCO NET system in the event of an intruder / fire alarm in the INTEGRA system partition

Application

Commercial networks

Banks

National institutions

Company divisions
System functionality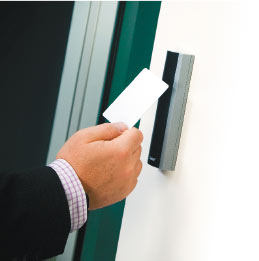 Access rights in ACCO NET system are based on access control zones, which allows for advanced authorizations administration both for individual users and for whole groups. You can define temporary access schedules and walking routes along which the users may move around the facility. Moreover, the anti-passback function excludes the possibility that an ID might be used a second time to enter the protected zone without leaving it earlier.
ACCO NET system is a flexible, scalable and safe solution. The communication between ACCO Server and ACCO-NT panels is encrypted, which prevents intrusion of unwanted persons.
Owing to the possibility of generating reports in the most common formats (XML, CSV, XLSX) and full control of presence, ACCO NET system allows the calculation of presence time according to assigned rules and/or presence calendar. It is also possible to check the current location of the user and the route which that user has been following.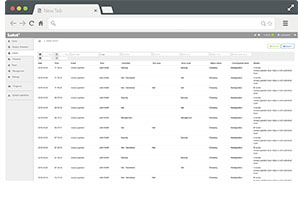 ACCO allows creation of the system for
65,000 users
Advanced software
ACCO NET is an access control system, whose management, administration and configuration are based on advanced software. Its components are installed on a computer with Debian system and depending on the size of the system they may be located on one or even three separate machines.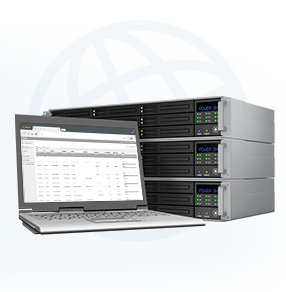 ACCO Server software is responsible for the communication between an unlimited number of control panels. This provides us with an advanced tool which may be used for managing any number of facilities by creating one dispersed, scalable, global system. Communication takes place via encrypted TCP/IP transmissions.
ACCO-DB database stores configuration and information about the system structure, data of 65,000 users and unlimited number of events.
ACCO Web application server enables managing the access to facilities from any location in the world via an Internet browser.
ACCO-NT control panel
Is responsible for the communication between the door controller and ACCO Server.
It has two RS-485 buses, whose total length may be up to 2,400 m.
One control panel may be connected to 255 door controllers.
Additionally, the panel may be developed with the following modules: keyfobs maintenance, inputs and outputs. This allows for adjusting the functionality to fit the investors' requirements owing to logic functions. As a result the system offers control options e.g. with barriers, gates, elevators, rollers, awnings or light.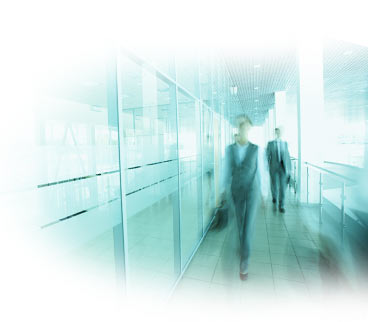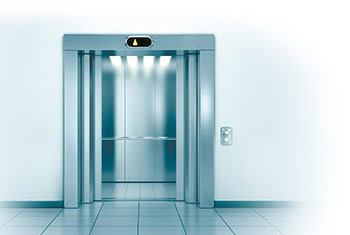 Every ACCO-NT control panel allows for creation of up to 255 zones. Every zone may include a number of single doors which are secured by the controllers from ACCO-KP series.
The USB port located on the control panel board facilitates the first configuration of the control panel for the installer.
The control panel is powered with a buffer battery APS-412 / APS-612 / APS-1412, assuring that the control panel continues to operate even during a power cut.
A single ACCO-NT control panel may be integrated with many intruder alarms based on INTEGRA control panels.
ACCO-NT control panel may store up to 1,000,000 own events and 100,000 events from each controller as well as data of 8,000 users.
If the connection with the server is lost e.g. due to a damage of the Internet connection, it guarantees that the part of the system for which the given panel is responsible, keeps its full functionality.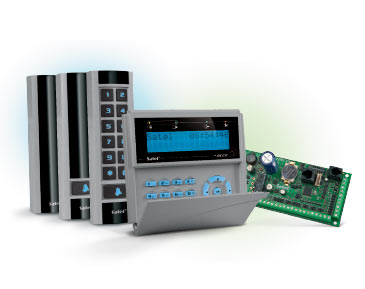 Controllers and terminals
Single doors in a facility are supervised by door controllers, which are connected with an RS-485 bus. This connection allows for communication with ACCO-NT control panel and updating the software on all modules connected to it at the same time. The controller can be powered from the APS-412 / APS-612 / APS-1412 backup power supply (with power status control) or from another 12 V DC source.
Every controller in the system may record information in non-volatile memory for 1,024 users and over 24,000 events. This protection measure allows for continuous, correct functioning of the system even if e.g. the bus connecting the controllers with the control panel is purposefully damaged. After the communication is restored, the control panel and the server automatically download the "delayed" events.
The controllers are connected to terminals which are used for identification of the users. All models of this device are equipped in a proximity card reader. If the access is to be granted based on an entered code or if the access is to be possible for both options jointly, you have to choose a terminal with a keyboard. It is also possible to connect devices using Dallas or Wiegand 26, 32, 34, 40, 42, 56 protocol which broadens the system functionality e.g. by fingerprints verification. This option is immensely useful in case of facilities such as registries with classified data or archives. The controllers outputs also allow for connecting two-way gates and tripods. System operation is facilitated by keyfobs that are individually programmed and customized to the needs of a specific person. Every user of the system may be assigned 4 IDs (e.g. cards, key tags), a code and a keyfob.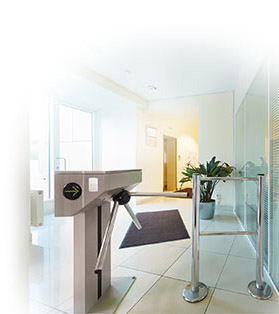 We can add the already existing ACCO systems to ACCO NET. You only have to connect the controllers to the ACCO-NT control panel bus and update their firmware.
System installation
ACCO Server is installed on the operation system called Debian – a free opensource Linux distribution. Debian is recognized as a stable system with high quality and low equipment requirements. Thanks to its popularity as well as approved and proper functioning, allow for ACCO NET system to be used by a very broad spectrum of users.
A specially developed installation script makes it easier for the installer to prepare and launch, step by step, ACCO Server, while automatically adding and setting the components necessary for proper functioning and obtaining full functionality of the system such as MySQL database, PHP language interpreter, WWW Apache server, JAVA and ACCO Web application server.
ACCO Soft
an installer tool for remote system configuration
creating system structure
creating access control zones
setting ACCO-NT control panels
possibility of remote update of firmware on ACCO-NT control panels
possibility of remote update of firmware on ACCO-KP door controllers series
adding and configuration of expansion modules (INT-E, INT-O, INT-PP, INT-RX-S,
INT-ORS, INT-IORS)
creating access routes
creating multi-level maps
access from any place in the world
integration configuration of ACCO NET zones and INTEGRA systems partitions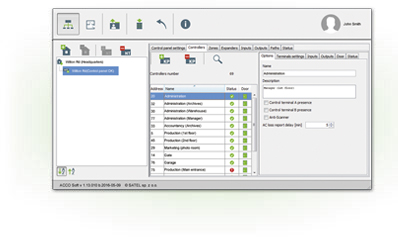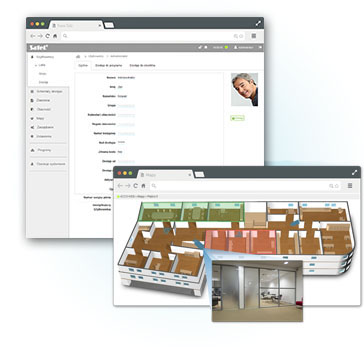 ACCO Web
a tool for remote system management
access from any place in the world via a browser
maintenance via mobile devices
possibility for multiple persons to log in at the same time
adding and managing users (CZ-USB-1 reader)
GDPR compliance

generating personal data processing document / statement / consent
the right to be forgotten

generating personalized badges (to PDF file / for printout)
creating rules and schedules
creating presence reports, for any number of users at the same time
presence panel - counter of people in a zone / premise + quick report
checking the user status / presence by historical data
event history preview with filtering option (also concerning the integrated INTEGRA alarm systems)
maintenance of the system from "Management" menu and multilevel maps
server, control panels and controllers status preview
camera placement in the facility preview
preview from IP cameras (link opened in a separated browser window)
anti-passback function
control and preview of the status of INTEGRA alarm systems partitions integrated with ACCO NET